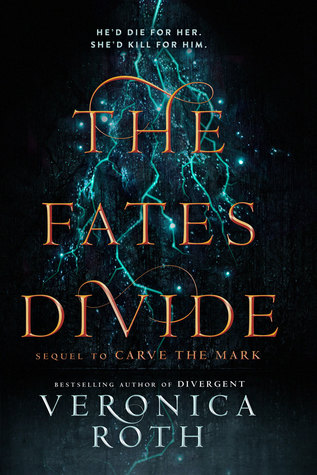 Carve the Mark left in a tangled web of misfortune for Cyra and Akos that left many unanswered questions. This sequel left no stone unturned in finding out the secrets of fated families. It is difficult to review a sequel without revealing too much to those who haven't read the previous book but this is what I enjoyed about both of the books:
      1. Attention to Detail
Roth is an amazing author and has proved her worth in the Divergent series. What I particularly appreciated is the detail in all of the different cultures and langues in this story. The setting is in a far away galaxy with multiple nation planets that all have their own unique ways of life that are intricate in understanding the dynamics of the story. I enjoyed learning about these fictitious culture and languages. It made the story come more alive.
  2.  Character Development
The chapters are told from multiple perspectives of the main characters. Roth lets us see the deepest aspects of each characters minds and hearts in the way the speak and think. It was neat to see how their beliefs in their different cultures played a huge role in who they were and the decisions they made. The characters have difficult choices to make in the story and I felt their turmoil in a way that felt real.
3. Unpredictable Plot twist
This is a must in most great books but this series had many that made me gasp out loud.
4. Creativity
Over all writing is an art form. I appreciate all different types of art but the creation of this setting and characters is mind blowing. It takes a very unique person to imagine what Roth has put into this book.
I checked out this book from the Oklahoma Digital Library in the audiobook form. There were multiple readers for the different characters in the chapters. It was a very entertaining book and highly recommended.
Coming Soon…
Review of My Plane Jane by Cynthia Hand